So you realize you have a long weekend coming up, you ask your active duty spouse where they are "allowed" to go, and they bring home the liberty limits.  This is how my Wednesday before President's Day weekend began.  We are new to the island, having just arrived in August of '18, and this was going to be our first off-island adventure! 96 hours.. that seems so short. So what was I willing to cram (city wise) in the short 96?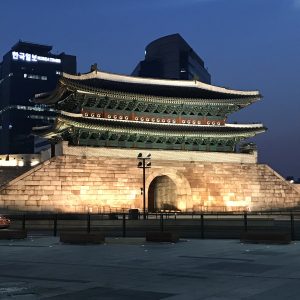 Well of course off to Orbitz, Peach Airlines, Vanilla Air, & JetStar I went! As we all know, last minute trips are not always going to be the best deal.  Tokyo, Osaka & Kyoto were first on my "must see" list.  After doing a bit of research, I quickly eliminated those, as they simply were not the best cost effective trip.  I furthered my research. I immediately decided on Seoul.  It was cheap, I have only heard great things about Seoul, and at the end of the day.. why not?!  I quickly booked my entire trip on Orbitz, hotel & 4 flight tickets flying out of Naha on Friday night, and returning to Okinawa Tuesday evening (Yes, I pulled my children from school).  Feeling accomplished and ready to set out on our trip in 48 short hours, I realized something.  It's February in Korea.  It's cold.  Not Okinawa cold, but winter in Idaho (where I'm from) cold.  Did we bring cold weather gear here? Luckily we are all about layering, and that's exactly what we did.  Many layers were packed into our backpacks.  We could have checked luggage as we were flying with Korean Air (which I highly recommend), but we were set to be minimal.. in winter.. with jackets and so many layers. I hope you are getting my humor in this.  Well I did it, and you can too!
We arrived at Incheon International airport late Friday evening, after clearing customs (note: there's no passport stamp, but a printed piece of paper you keep with you) we were set to figure out how we were getting into Seoul (about an hour away).  We picked up a pocket Wi-Fi from a Kiosk ($11USD for 4 days!) and purchased express train tickets into Seoul Station ($26 USD one way for 3 adults and 1 child).  While on the train we were able to figure out our route on foot from Seoul Station to our hotel, roughly a mile away. We exited Seoul Station in the dark, the crisp cold air slapped us in the face and we headed off.  The streets were clean and there were still signs of snow, having been shoveled.  We reached out hotel without any issues, checked in and off to bed we went.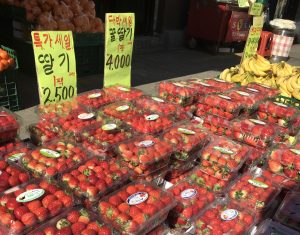 Our first official day in Seoul began with the Namdaemun Market.  Namdaemun Market is the largest outdoor market in Seoul.  You can buy many a souvenirs, clothing items etc here.  What we came for.. Street Food! We didn't know what we wanted, we happened to stumble into the gate 5 opening.  There was a long line intermixed with locals and a few tourists.  We had no idea what they were in line for exactly, but if there were 15 people standing in line, we were surely going to follow suit.  Yachae Hotteok X 4 is what we ordered.  What is this you wonder?  Its simply described at a pancake filled with veggies and glass noodles.  For us it was amazing.  So amazing, that we seriously ventured to the market every single morning after to grab one. We then continued through the market and decided we had a savory breakfast, time for a treat.  Homemade sugar donuts were calling our name.  We each snagged one and continued walking up the street taking in all the sights while we ohh'ed and ahh'ed over each food stall. We came to the end of the main street and what did I see next to me… I immediately turned to my husband and asked for 2,500 Won ($2.50 USD) I took the cash and paid for my must have item and hurried back.  Strawberries! A large pack of fresh Strawberries! We descended upon the berries like a wolf taking out its prey.  Take note: Strawberry Season is Dec-June.. but the prime picking is Feb-Mar! In the middle of the 24 degrees while the wind was whipping at my hair I felt like I was in heaven.  Real, sweet, luscious, ripe Strawberries! No surprise we finished the entire pack in a matter of minutes. As anyone on Okinawa knows.. this was huge!
Seeing how our street-food gorge session was out of the way, we decided to head to the Palaces. Seoul houses five Royal Palaces:  Gyeongbokgung, Changdeokgung, Channggyeonggung, Deoksugung, and Gyeonghuigung.  We accomplished 4 of the 5 in one day, on foot.  It always amazes me how well these palaces are preserved, and how beautiful and vibrant the colors are of each palace.  The oldest palace, Gyeongbokgung was built in 1395, before America was even founded.  The grounds are palatial and there's a changing of the guard every hour from 10AM-3PM.  There is a fee to go into the palace, but if you plan to visit many or all plus the Huwon secret garden, I recommend purchasing the integrated ticket of palaces.  The price is 10,000 Won ($10USD) and could save up to 4000Won. However, if you do not plan on taking in the Huwon secret garden it's not advantageous to purchase the combined ticket.
Once all the palaces were seen I wanted to see the infamous Bukchon Hanok Village. I had heard about and seen pictures of this beautiful traditional village.  The village itself was a bit interesting to find, but know there are signs and the local city map you can obtain is all in English.  Very helpful when gallivanting around an unknown city. The village still houses residents and though it is a tourist attraction of sorts, you must remain quiet while walking around the village itself.  The village sits a bit above the city and allows for some great views and opportunities for pictures alike. We saw many tourists wearing the traditional Hanbok.  The traditional Korean wears, much like the Kimono in Kyoto.  There are many rental places throughout the city, and I have to admit, I wish my girls and I would have taken advantage of this, as everyone dressed up looked beautiful.  Also of note: If you rent a Hanbok you get discounts on admission into palaces, while wearing your outfit.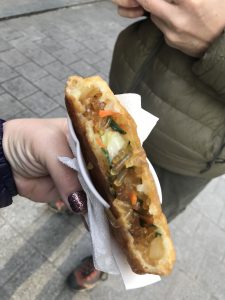 We left the village in search for a late lunch/dinner location.  Before we found a restaurant we came across another line of locals lined up outside a food stall on a corner. Much like before, if there's a line, we are jumping in. We purchased 4 Honey Hotteok's (1000Won each = 89 cents) A sweet fried pancake filled with sugar, peanuts, cinnamon & sesame seeds.  Just like our breakfast, it was simply mouth watering.  We were quickly learning that we now loved Korean food. We filled our stomachs with this sweetness and continued our journey to find a place to grab substantial food. Bibimbap it was. Amongst the four of us, we ordered three different versions, chicken, kimchi & pork and pork cutlet.  All were delicious and I don't know what it is, but their fried chicken is amazing.  We had fried chicken a few other times while in Seoul and it was never a disappointment.
Our next day of adventures began with the North Seoul Tower. We had definitely seen this tower from many angles as we sauntered through the city, and it was a clear morning so we wanted to be able to take in any views the tower offered.  We took the funicular up the side of the mountain which then allowed us to take the gondola further up the mountain to where the tower stood. You can also hike up to the tower if you'd prefer, which would also save you the price of the gondola. The grounds of the Tower had little places to grab a snack as well as a gift shop, not to mention many photo opportunities and a location to place a love lock.  There is a fee to go to the observation deck, and I do recommend this if you can.  For me it was quite similar to going to the top of the Space Needle in Seattle; however this tower does not rotate. It's a quick elevator ride up and once you are at the observation deck the floor to ceiling windows welcome you. On each window there are etched locations and how far they are.  For example Los Angeles is 9,631.19 km away & Washington DC is 11,318.67 km away.  The part that took my breath away was simply how colossal Seoul truly is.  It makes LA look like a small village in comparison.  Not to be missed, if the restrooms on the observation deck.  And no, I'm not kidding! It was quite the surprise when I opened the door to a stall and was greeted with a window wall that overlooked Seoul right next to the toilet.  Come to find out, it's not only in the ladies restroom, the men's restroom also provides full views of the city.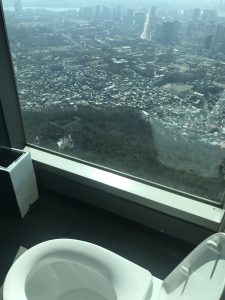 Having completed our North Seoul Tower visit, we decided to take the metro to the other side of town to see what this Lotte World Adventure Park was.  It was our first venture on the Seoul metro system and allow me to tell you it is very friendly.  English abounds on all signs and if you've ever gotten yourself through DC's metro system.. you're golden.  You need to purchase a T-Money card, it is much like London's Oyster card. You purchase the card (we bought ours at the 7-eleven) and then at the station you put money on it. The card is good for both the metro and the bus system.  Don't be afraid of the bus system either, super friendly with English location destinations, plus you get to see more of the city this way.  We arrived at Lotte World Tower, which stands at 1,821 feet.  It has 123 floors.  To put it in perspective, the Empire State building is 1,250 feet tall with an extra 200+ feet being the antenna.  The Lotte World Tower is the tallest building in South Korea, and the fifth largest building in the world.  It's the epitome of beautiful modern architecture.  At the base sits an indoor adventure park. That's what we came for, but next time I visit I will definitely head up the tower for it's view.  Lotte World Adventure Park is a great treat for the kids.  After days of playing tourists and walking miles and miles they could let their fun out at the park. There are different fees included in certain packages, not all "adventures" are included with admission. Check and see what you are wanting to do before buying admission tickets. This could be a great alternative to Disney and Universal.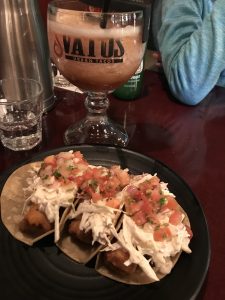 While at the Lotte World Adventure Park underground area, run, skip and high-jump over to Vatos Urban Tacos. If you are missing true authentic street style tacos…I'm talking carnitas, carne asada, chimichurri chicken, & Baja fish. This is your place! A friend recommended this place to us and I could not be more pleased with the food.  We felt as though we were back in So Cal or Yuma taking it all in. My daughters were licking their plates clean (not literally as that's probably frowned upon. ha!). Also, you're likely not driving.. order the guava margarita! My girls ordered an horchata, and a grapefruit Jarritos.  I'm positive we were all in a food coma afterwards, but we still wanted more! I've since learned there's one in Singapore.. so if that's a destination in your future add it to your must eats, you won't regret it.
Our last full day in Seoul began with the weather dipping into the teens but we were ready to jumpstart our day. After a quick bite we boarded the metro again bound for the Seoul Olympic Park, location of the 1988 games.  Where were you in 1988 when you watched? Though the park is mostly empty, the buildings are still there and you can watch tennis matches if you'd like.  The walkway through the park is beautiful with many structures donated by artists, don't miss the World Peace Gate.  An eternal fame glows from under the massive roof, and the colors under the wings of the structure are beautiful, not to mention a great photo op.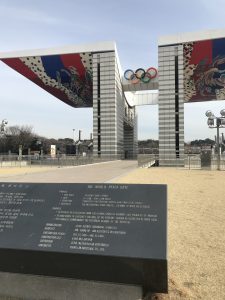 Not far from Seoul Olympic Park is Gangnam.  Yes, as in Gangnam Style the song that we all had stuck in our heads back in 2012.  There are a set of hands, right over left arched on the sidewalk.  The song Gangnam Style plays on loop, and it's recommended..as in me the mom recommended we sing and dance under the hands.  My youngest and I had fun, while my oldest rolled her eyes and my husband continued walking shaking his head.  I look at it like this.. when else am I going to do this. YOLO right?! haha.
Our last morning arrived in Seoul and we knew if we were going to head over to the market to get our beloved street breakfast we needed to do it fast before we had to get on the train back to Incheon.  Like an image out of "Twas the Night Before Christmas" .. "Tore up the shutters and threw up the sash.." I tore open the drapes to reveal snowflakes.  Big beautiful snowflakes falling to the ground below us.  We were all like kids in a candy store. Everyone rushed over to the window to watch the magic unfold before us. We bundled up and headed out the door on our walk to the market.  "Snowflakes stayed on our nose and eyelashes" just like Julie Andrews sings.  We ate our warm delicious hotteok's and didn't even bother to stand under an awning, we loved every single minute of the snow. Knowing our return to the beautiful island of Okinawa was soon and that winter was over, and the warm humid temps would begin creeping back up, we cherished our snowy morning.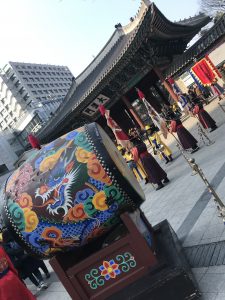 Back to the hotel to grab our bags and out the door we went.  Off to Seoul Station to take the Express train back to Incheon Airport.  While on the hour ride back to the airport we wondered what do we do with our 4 T-Money passes we had purchased that we knew still had money on them.  Well once we checked in with Korean Air we walked into a 7-Eleven in the airport and asked.  Soon they were cashing out our cards and refunding our money.  So don't take your T-money (metro card) back or throw away, cash it out!!
All in all, if you've read this far into my 96 hours in Seoul.. Congratulations! Would I recommend Seoul? YES. Would I go back? In a heartbeat! I feel like there's so much more of the city to see.  And though I took on the Palaces etc, I missed the Museums, and I'd like to take a trip to the DMZ, because.. why not?! I'm sure the other seasons in Seoul would show you even more beautiful gardens and landscapes that are scattered throughout. English is spoken by many throughout the city, don't let the language barrier scare you.  Of course it goes without saying, learning a simple hello and thank you is always welcomed with smiles.
On your next 96 hour adventure, or even 72 hour adventure consider Seoul, Korea!!