Written By Erin Haefner Schmitt
Are you suffering from the dreaded mid-winter (or what passes for winter in Okinawa's subtropical climate) doldrums?  The joy and festivities of the holidays have passed, and there are 3-4 months until it's time to break out the stand-up paddleboards and scuba gear.  Sounds like you could use a hanami picnic!  No, that's not one of Okinawa's many mouth-watering edible delicacies.  Hanami, or "flower viewing," is the Japanese custom of enjoying an outdoor picnic while admiring the spectacular cherry blossoms.  Okinawa's cherry blossom season starts anywhere from late January to mid- February, and those bright pink blossoms are a sight you do not want to miss – especially if you can combine it with some amazing Oki treats!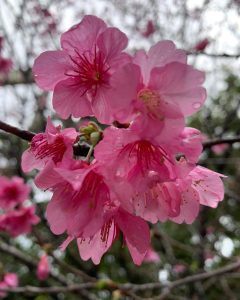 You likely know Japan is famous for its breathtaking cherry blossoms or "sakura."  In fact, the first cherry blossom trees that lined the Potomac River in Washington, D.C. were a gift from Japan in 1910.  But did you know there are some blossoms you might see only in Okinawa?  Okinawa is known for having a multitude of hikanzakura (Ryukyu kanhizakura) cherry trees, which are rare elsewhere.  Okinawa sakura have a bell shape and a deep, vibrant pink hue, making for some fabulous Instagram pics to get your snow-covered friends back in the States jealous.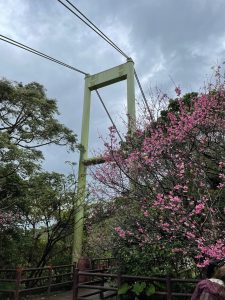 In Oki, there's no shortage of perfect viewing spots, from Naha to Nago.  The most popular sites include Mount Yaedake, Nakijin Castle Ruins, Nago Castle Park, Yogi Park, and Yaese Park.  Follow the numerous Oki Facebook groups, and you'll be sure to find some hidden gems as well.  This year most festivals have been cancelled, but the parks are generally open, at least as of the moment I write this.  Check before you go though – as we all know, things can change quickly!  So fill your picnic basket with a lovely charcuterie board, pastries from a local bakery, a bottle of your favorite pink wine, and celebrate sakura season like a true Okinawan.  Oh, and be sure to save room for a scoop or two of cherry blossom ice cream!