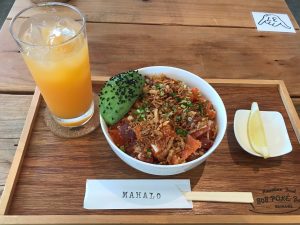 I love a place that has a short menu and a long line! It means they are doing something outstanding. 808 is revered by locals and military community members alike as one of the best poke places on island. The welcoming spirit of Hawaii encapsulates you from the moment you step into the line with water set out on hot days, the friendliness of the team, the ukulele island music drifting through the crowd, a little shelf of island-themed goods for sale, and the menu. The effect will have you feeling transported to a North Shore beach-side café watching the sets roll in.
The menu is simple, and customizable, packed with flavors and freshness. First you choose your size and type, poke or acai; then you top it with any combination of the delicious options offered to compete your bowl. You can even add an extra 1/2 serving or extra full serving of fish if you are super hungry! They occasionally have specials but those are usually of flavor combos not different fish or ingredients. Compliment your Hawaiian dish with a Hawaiian drink to have the full experience. They will close early if they have sold out of ingredients for the day since there isn't a full kitchen on site. I definitely recommend getting there as close to when the doors open as you can and making new friends in the line that will certainly already be formed.
Name: 808 Poke Bowls
Location: HERE in Onna near Mermaid's Groto and Cape Manzamo
Hours: Mon – Sat 11AM until "4PM" (may close early if sold out). Closed Sundays
Parking Suggestion: Parking is limited on the sides of the restaurant. I recommend going down the hill behind it to THIS LOT or park on the streets around the lot but be sure to mind the signs on the streets. There are directions posted outside the restaurant and the team will help you if you cannot find a space.
Bonus Info: They DO take credit card. They have a kid sized poke option and the small acai bowl is small enough for kids too. Take away is offered but they recently started charging extra for this because of the containers.
[left]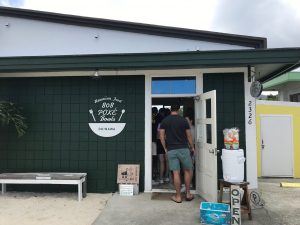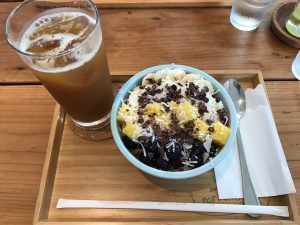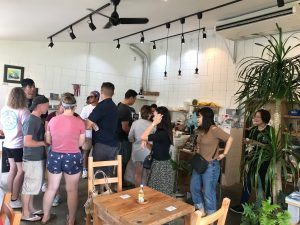 [/left]
[right]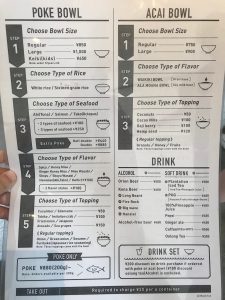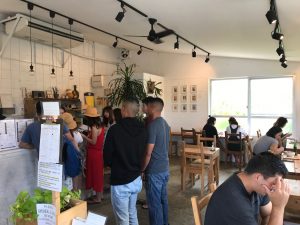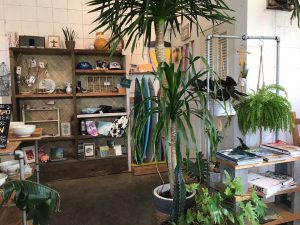 [/right]