This place is all about the food AND the story. It's a real "people helping people" tale that will have you craving BBQ by the end. While it was not our original destination, and we almost didn't go in because we were confused by the signs, we are so happy we got out of the car.  See for yourself…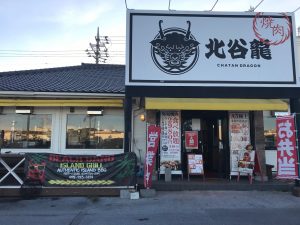 …at first glance you'd think it was the yakiniku place until you happen to notice the banner off to the side and the small coconut-topped menu on the step. The Beach Gang Island Grill is currently barrowing kitchen space from the Chatan Dragon because the grill's building was devastated by the typhoons last year. Due to the COVID restrictions out in town, the Chatan Dragon wasn't seeing as many patrons. The owner of the grill saw an chance to jump start his business again by partnering with the dragon owner for kitchen space and patio seating and he took it!
The grill owner still isn't back to a place where he can rent a permanent location but, with as tasty as the food is, we have no doubt he'll get there soon. Hints of influence from Hawaiian, Chamorro, and Korean style BBQ are present in the dishes. The meats are marinated and grilled to perfection so they are still juicey with just the right amount of char to give you that classic BBQ smoky taste. The marinade is sweet with balanced sesame and garlic flavors. If that sounds overly sweet to you, the side dipping sauce is a vinegar based sauce that will cut the sweetness without overpowering all of the flavors. The bed of rice soaks up the rest of the sauce so you won't miss a single, delicious drop. You've got to check this place out, meet the owner, and enjoy being able to eat outside during the upcoming beautiful early summer evenings.
Name: Beach Gang Island Grill
Location: On 58 by Hamby Town HERE
Hours: Mon – Sun 11:30AM – 1:30PM and 5:30PM – 9:00PM
Parking Suggestion: There is a large lot right in front of the restaurant. Should it be full, there is some street parking around the back.
Bonus Info: Does not take credit card but does take dollars or yen. Catering is available! Keep them in mind for your next event once gathering is allowed again. They will deliver to certain bases, check out their Facebook page for specifics.
[left]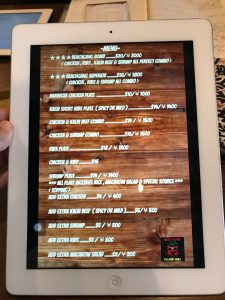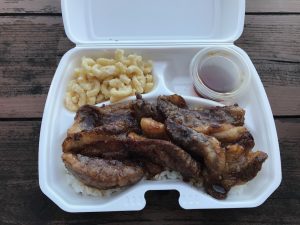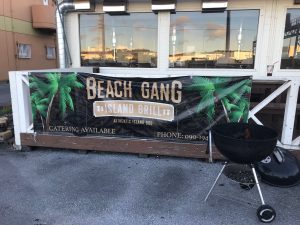 [/left]
[right]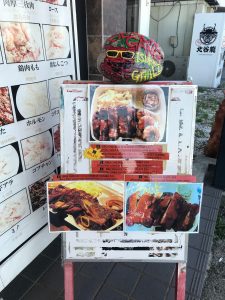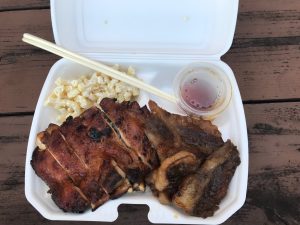 [/right]