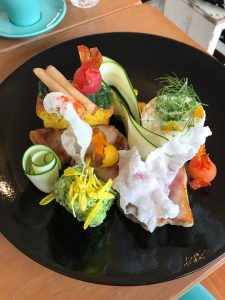 A culinary experience! Black Cat Café is upscale dining done in a warm, unassuming way by a couple 100% dedicated to their craft. The restaurant décor is kept simple so you can absorb the beauty of the panoramic views and the exquisite colors, and smells, of the food and coffee. Come hungry but not in a hurry because attention to every detail is put into each dish which is prepared when ordered. Once your food is ready, one of the chefs will bring it to you and set the stage by describing each part of the dish from design to cooking style and flavors to expect. A cup of their hand-ground, delicious coffee will help bring out those layers of flavors in ways you won't forget and will have you frequenting this place like we do.
Name: Black Cat Café
Location: Naha overlooking Shurijo Castle
Hours: Friday – Monday: 9AM – 5PM. Closed Tuesday – Thursday
Parking Suggestion: Another place where a small car is recommended. They have two dedicated spots in the lot but after those are taken street parking is the only option and the street is narrow.
Bonus Info: Yen only and paid before eating. Be ready to take your shoes off and trade them for slippers in a nod to Japanese traditions. They sell coffee beans, sauces, and other yummy items. I do not recommend this restaurant for children because it does not have a dedicated kids menu and what is on the menu probably won't appeal to young pallets. It is unfortunately not wheel chair accessible as the stairs are the only entrance option.