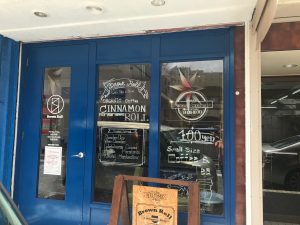 This place was recommended by a blog reader! How cool is that?!? Only two months in and people are excited to share their experiences with me. Keep them coming in the comments! This particular reader knows my sugar weakness and had me interested at Cinnamon Roll. The rolls are made fresh daily then warmed once you've ordered, and chosen your perfect topping, so it is perfectly gooey on the inside when it arrives at your seat. Pair it with one of their sweet, unique coffee options and your morning is off to a great start. I opted for the Jelly Latte option which was so much fun! It was a cross between boba tea because of the jelly bits and an iced latte with thick, yummy chocolate whipped cream and sprinkles to top it off. One of the guys in our group had the Cinnamon Macadamia Seasonal Special and said its flavors rivaled a cup he had on a Hawaii surf vacation. The kids in the group devoured their shared roll and approved it for a return visit so it is definitely a win in my book.
Name: Brown Roll
Location: Behind Chome Central Market
Hours: Mon – Fri 8AM – 5PM. Sat & Sun 11AM – 5PM
Parking Suggestion: This parking garage is just over two blocks away and is 200Y. The streets closer to the café do have lots that will be tempting but will either be locked or strictly enforce towing so this was the best place we found.
Bonus Info: Yen only! Only two tables in this tiny café. There is also coffee bar seating and three couches so this is not an great option for a large group. They do take out though so you can pick it up and enjoy at home or in the office.