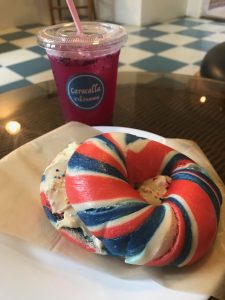 The creative minds at Caracalla Coffee and Bread remixed their rainbow bagels in honor of the 4th of July. Red ,White, and Blue bagels!! This is a limited time special so don't miss out! I love this place for its garden seating, whimsical cookies, beautiful bagels, and delicious food. Everything about this place is designed to put a smile on your face and slow your pace for a little while. On sunny days, the garden is full of kids playing and families soaking up the Oki sun and making new friends. The food is all made fresh to order and the drinks are individually crafted. There are several, yummy non-bagel options to choose from that also come on their homemade bread. Delicious ice cream, milk shakes, and soda floats will cool off any Oki summer day so you can be back on the beach in no time. They offer food and drinks to go. Take a couple home so you can make your own delicious creations (like we did, see the pic below) or share them at the office to liven things up on rainy days. They do special bagel colors throughout the year for different occasions so if you miss out on this one the next remix is probably right around the corner.
Location: Chatan near Kadena Gate One
Hours: Wednesday – Sunday 8AM – 3PM. Closed Monday and Tuesday
Parking Suggestion: There is parking next to the garden and in a small, two space garage just next door. Street parking is available on neighboring streets. Some parking spaces are not an option so be sure to read the signs. I recommend bringing your smallest vehicle as the available spaces and streets are small.
Bonus Info: They do take credit card. They will sell out of bagels early on sunny weekend days and may close early when this happens. You can preorder bagels to go on their FB page.