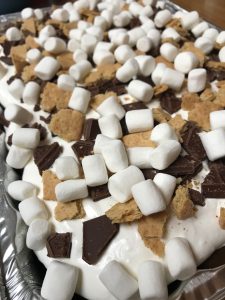 Hello chocolate my old friend…I've come to eat S'more again…
This is a seriously, decedent twist on a classic summer snack. It doesn't come together as quickly as the original gooey goodness but it is well worth the extra effort. The layers of graham cracker crust, chocolate cake stuffed with chocolate pudding, topped with cool whip infused marshmallow fluff and crumbled up bits of s'mores fixings will have you dreaming of more days later. If it doesn't get you excited about summer time campfires, ghost stories, and starry nights, I don't know what will. This beauty will be making it's appearance at a ladies camping trip this weekend and I know they cannot wait to dig in.
I really liked this recipe because all of the items are easy to find at any commissary and you do not need any special kitchen gadgets to make it. One trick I did discover was that my normal attempt to get ahead while items are baking was not a good fit with this recipe. I whipped up the pudding while the cake was baking against the instructions in the recipe. By the time I had my holes poked in the cake and was ready to pour the pudding, the pudding had stood up and was too thick to easily pour. Moral of the story, follow the directions to the T and you'll have a delicious dessert for all of your upcoming summer time gatherings.
Name: Chocolate S'mores Pudding Cake
Location of Recipe: Inside Bru Crew Life HERE
Hardware Needed: Wooden spoon for poking holes in the cake before pouring the pudding.
Recommendations: 1) Set out the cool whip to thaw while the cake is cooling. 2) Go hole crazy! I did not poke nearly enough holes in the cake and ended up not using all of the pudding. It did end up mostly settling into the holes that I made but definitely could have used more. 3) Cut the chocolate bars on a diagonal twice to get a crumbled look.
[left]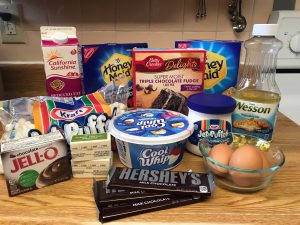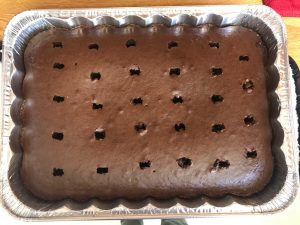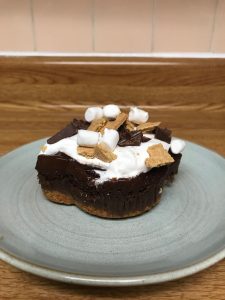 [/left]
[right]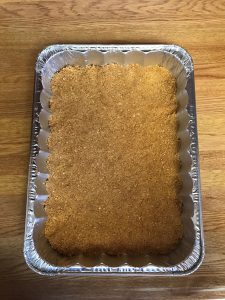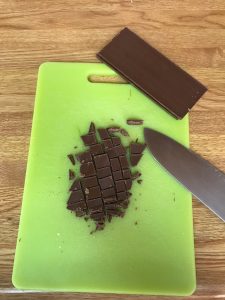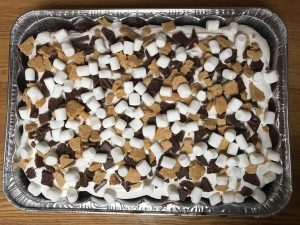 [/right]