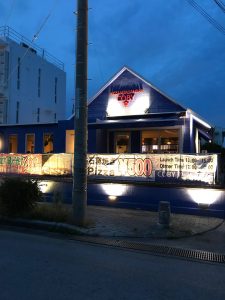 Have you been looking for a casual date night spot? Look no further because Coby Pizza & Italian Bar has you covered. The low lighting and quiet music set the mood as soon as you walk in the sea side door. The hostess will show you to your table and bring you a starter of prosciutto shortly after you're settled. Open the extensive wine menu, or browse the wine rack by the door, so you can sip something while pondering the standard menu or the daily chef specials. If you're feeling something a bit stronger, you'll find it for sure on their large, specialty drink menu. We were in search of custom pizza the night we stopped by and we were not disappointed. The pizzas are truly personal size so I recommend ordering a couple to try different flavor combinations! The thin pizza crust is cooked to perfection – crunchy edges but still soft and flavorful under the cheese and sauce. There are many delicious combos to choose from or build your own. We walked along the moonlit sea wall after dinner and we agreed we will definitely be back to try their non-pizza items like Risotto or Seafood pasta and dessert.
Name: Coby Pizza & Italian Bar
Location: In Miato by Sushi Zen and the Sea Garden
Hours: 11:00AM – Midnight
Parking Suggestion: There is some parking directly across from the restaurant. It is on a one way street so you will want to start looking for parking close to the Sea Garden along the sea wall.
Bonus Info: they accept credit card. The take reservations. The pizzas are small enough for children but there is not a dedicated children's menu or available highchairs. They have a good sized, semi-private room where you could host your next ladies night, hale-and-farewell, birthday, etc.