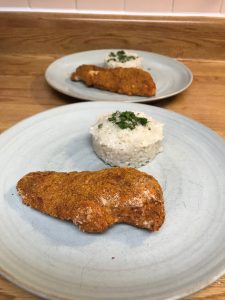 If you've ever traveled to Hawaii, I bet that you've had coconut lime rice before and wondered how they made it. The rice was probably paired with some kalua pork or pineapple chicken or any other sweet, heavenly protein dish they've mastered. The paprika chicken recipe we paired this amazing coconut lime rice is the perfect balance for the sweetness of the rice. It adds just the right amount of spice and salt to this easy weeknight meal to complement the creamy, zesty tropical rice.
Both recipes are very easy and cook up quick making them great busy weeknight options. If you've never cooked rice in anything besides water before, this recipe will have you thinking "What have I been missing and what else can I cook rice in to pack it with flavor?!" Cooking rice in liquids other than water is something you can absolutely tackle but there are some tricks to it. Check out my recommendations below. I also recommend putting on a little island music in the kitchen while cooking so you can day dream the rest of the luau atmosphere while preparing this inspired dish.
Head to the sites, make your shopping list then give it a whirl this weekend and let us know how it goes in the comments below!
Name: Coconut Lime Rice and Paprika Chicken
Location of the Recipes: The rice comes from Bake-Eat-Repeat HERE and the chicken is from Sugar Apron HERE
Hardware Needed: 1) An oven rated wire rack. Your baked goods cooling rack may not be rated for the oven so I recommend using the one that came with a broiler pan. 2) Juicer for the lime. 3) If you want to be fancy like my husband decided to be, either a large round cookie cutter or the inner ring of a burger press to mold the rice into a disk.
Recommendations: 1)

The key to infusing the rice with as much flavor as possible is dry sautéing the rice prior to adding the liquid (see the picture below and the recipe instructions). This opens up the grains so they can absorb all the goodness of the coconut milk and the lime juice. 2) Also, use unsweetened, full fat coconut milk for the rice. This absorbs the best and doesn't separate like some of the sweetened milks will. 3) Have a good flow to your dredging station for the chicken to minimize the mess that flour tends to create (see picture below). Using a dinner plate rather than a bowl for the flour/cheese portion will also help minimize the mess since the whole chicken breast can fit on the plate and you won't have to turn it over multiple times to ensure good coating. 
[left]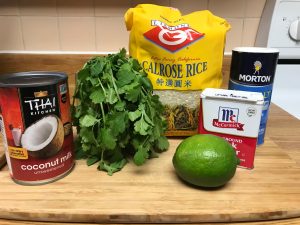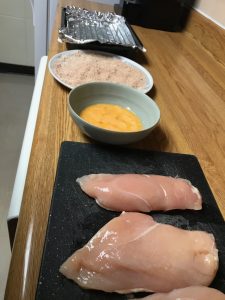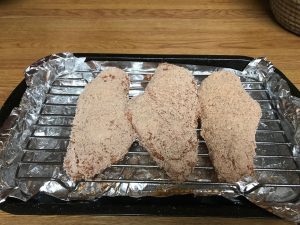 [/left]
[right]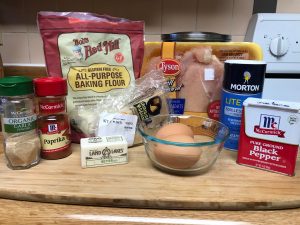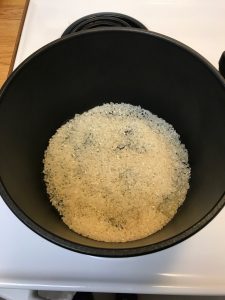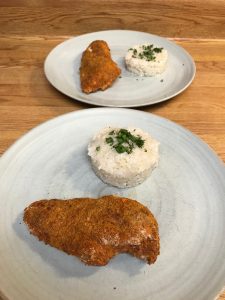 [/right]