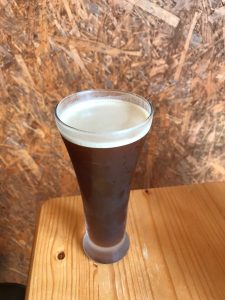 Four words for you: Nitro Cold Brew Coffee!! After driving past this place dozens of times and hearing great things about it from everyone, we decided to check it out. I had no idea that they had this refreshing, perfect-for-summer coffee until I read over their menu. If you're like me and you like a little coffee with your sugar, this brewing technique takes some of that bitter edge off and allows you to forgo the extra sugar/cream calories.
The food is tasty too! Silver dollar pancakes stacked high and served with your choice of delicious toppings are available all day. Need something a little larger? They offer stacks of regular sized pancakes or other breakfast classics like omelets and egg sandwiches. Or dive straight into brunch with something off their curry or sandwich menu. Be ready for a variation on the bread (which won't sacrifice flavor) or for an item to be sold out on your visit. They source all of their breads, eggs, and milk from local farmers to support their community so they work with what is available. Savor your meal on the patio and be the envy of all of the route 58 motorists or take it to-go to make your trek more enjoyable. Either way, stop by this humble place for some big flavors and refreshing coffee.
Name: Doesn't Matter Espresso
Location: Between Camp Foster and MCAS Futenma on route 58 – HERE
Hours: Fri – Wed 9AM – 6PM. Closed Thursdays.
Suggested Parking: At the edge of the building before the actual café entrance, is a small parking lot HERE. If it is full, the shop owner will come out and help you locate another option.
Bonus Info: They do take credit card. While there are no kids chairs or a dedicated kids menu, there are some menu items that kids will love and some low chairs that they can sit in. They have a window case of organic to-go goodies and juice for sale and free Wi-Fi.