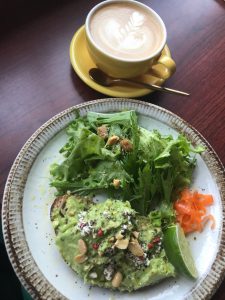 Good Day Coffee has become a regular in my coffee café rotation. I saw the menu once when I was fairly new to the island and I was immediately hooked. I mean just yum! They pile their fresh, soft rye bread high with creamy avocado. They then top that with feta, nuts, and a hint of lime to create a rich depth of flavor. The toast is accompanied by a salad dressed perfectly in olive oil and salt to draw the sweet flavors of the avocado toast out even more. I then like to pair it with a café latte that is just bitter enough to balance the food. Hungry yet?
In addition to the food being excellent, the team members and the atmosphere are what keep me coming back. They are so friendly and are always on top of the food flow even when the place is packed which is often. The garden seating is my favorite spot on warm, sunny Okinawa days. The hedges create a cozy feel despite the proximity to the busy street. Try this place once and I'm certain I'll see you next to me in line again for your second or third trip!
Name: Good Day Coffee
Location: Sunabe close to Kadena AFB Gate 1 HERE
Hours: Tuesday – Sunday 6AM – 3PM. Closed Monday
Parking Suggestion: There are three small spaces in front of the cafe and two stacked spaces in the driveway next to it. If you aren't feeling up to squeezing into either of those, there is a lot not far down the street (see the trashcan picture below) HERE
Bonus Info: Yen only! They do to-go orders. There is no dedicated kids menu but the portions are large enough to share. There are two small side rooms if you brought a larger group. The line can get a little long around mid morning so try to skip those hours or just be prepared. They have some local jewelry and other items for sale.