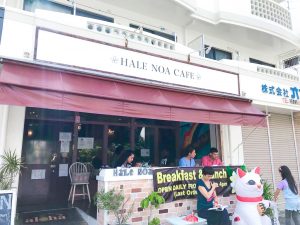 Gather up the kids and head on over to this colorful, cozy spot near Araha beach! The standing menu will have you debating between Hawaiian favorites like Lomi Lomi Pork and Acai Bowls or decadent twists on classics like Elvis French toast and three types of eggs benedict. On top of that, their specials menu will have you coming back often to try new chef creations. The littlest ones in the group won't miss out on the flavors either. Their kids sized options of some of their adult favorites, including the smoothies, get the seal of approval from our six-year-old critic. The biggest hit of the day was the Ginger Ninja smoothie which he highly recommends for diners of all ages.
Name: Hale Noa
Location: Near Araha Beach
Hours: 7:00AM to 4:00PM Everyday
Parking Suggestion: There is a small lot next to the restaurant but you can't use all of the spaces because it is a shared lot with other businesses and towing is enforced. Most people either park on the street or in the Bunny Store lot here  especially if you have a larger vehicle.
Bonus: There can be a wait list but a pastry from the bakery next door, La Premiere Place, will make the time pass sweetly. They do accept credit card (Visa or Master Card). There are high chairs available.