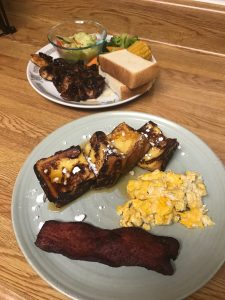 I cannot wait to get back to this place, when we can dine in, for live music with a great view and delicious food! This little gem reminds me of so many great dives back in my hometown where you can walk up off the beach after surfing all day, chat with the super friendly staff, have a few cold ones, and listen to local live music. I can see Ken's being my new summer time hide away because it has all of those things (well maybe not a great surf spot but certainly great beach) including the super friendly staff. We would have stayed to eat on their outdoor patio but the rain was falling sideways.
The idea of breakfast for dinner is what initially drew me to Ken's. French toast made from thick, Japanesse bread accompanied by fluffy, scrabbled eggs and thick cut bacon was exactly how I wanted to end my day. I added maple syrup and powdered sugar when we got home to complete the vision in my head. My other half decided to go with the BBQ route. He was pleasantly surprised by the amount of food he got with his plate. Along with the super flavorful, juicy chicken (Ken's BBQ sauce was mostly sweet with some lingering heat at the end), he got a cup of cream of mushroom soup, side salad, steamed veggies, and toast. We've already picked out what we're going to try the next time we go and cannot wait to get back there!
Location: In Maeda across from the Maeda fishing harbor HERE
Hours: Wed – Mon 10:30AM – 10PM. Closed Tuesdays
Parking Suggestion: They do have a small front parking lot with a handful of spaces for small cars. The streets around the cafe are not good for curbside parking. If the lot is full, your next closest options are the harbor/athletic field HERE or Marine Liesure High Side Senyo Parking Lot HERE. Both are about a 6 min walk.
Bonus Info: They accept dollars, yen, or credit card as payment. Though there is not a dedicated kids menu, there are items on the menu that would be small enough to suite young diners. It's also a lodge!! Could be a great place for a weekend get away without having to go too far. Pets are welcome for patio dining.
[left]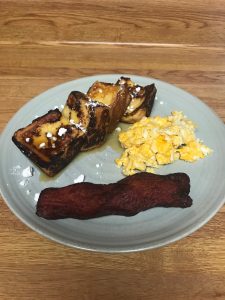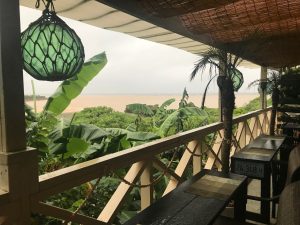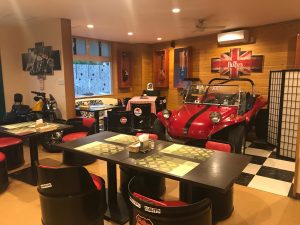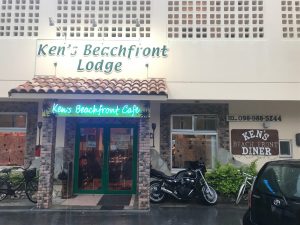 [/left]
[right]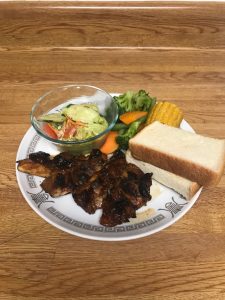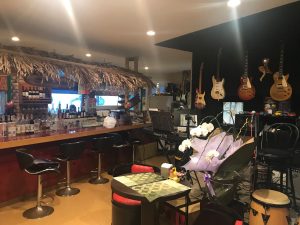 [/right]