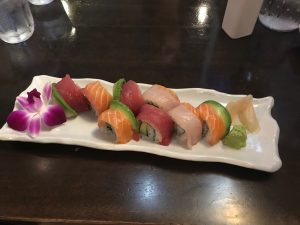 Y'all, I did not feel like cooking the other night. After a long flight from South Korea, and 5PM traffic from the airport, the last thing we wanted was to spend any time in the kitchen. A quick search for sushi on our route home (from the passenger seat of course) turned up this little place. The menu is extensive. Everyone should be able to find something including kids. The size and style of the rolls are more western so two rolls was enough for each of us. I always order a spicy roll option when trying a new sushi place. This time I ordered the dynamite roll. Its spice wasn't over powering or up front. The heat caught up slowly through two or three pieces which was surprising as most places tend to over do the spicy element. Fresh ingredients, very friendly team, easy to get to are all other reasons you should check out this place the next time you don't feel like cooking.
Name: Kouwa Sushi Bar
Location: Sunabe area across from Kadena Gate 1 HERE
Hours: Sun – Thurs 5PM – 10PM. Fri & Sat 5PM – 10:30PM
Parking Suggestion: Bring your smallest option and be ready to play some parking lot tetris. The restaurant has four, stacked dedicated spots in a small lot. There is also street parking close by.
Bonus Info: They do take credit card.

They offer take out! There is plenty of sushi bar seating which will give you a front row seat to watch the chef at work. You can also sit in high western style tables or in floor level Japanese seats with a well so you don't have to sit cross legged the whole time.