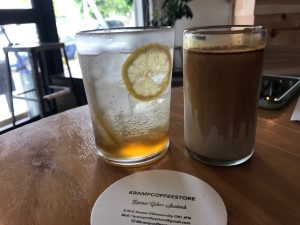 Grab a good book and head on over to this place where a quiet atmosphere is encouraged. Don't have a book you're currently reading but you can read Japanese? Perfect! There is a whole shelf of suggestions and a menu full of craft coffees, and sodas, to sip on while you read away the day. Pair your coffee with a decadent, but well sized, dessert and you have the makings of a cozy, rainy day activity. If you are hungrier for more, they have a tasty selection of unique sandwich options to choose from for lunch. The favorite in our group was the Basil Chicken and Mash Potato sandwich which had juicy, fresh tomatoes to balance the heavier flavors. Don't be surprised if you bump into me here, tucked away in a corner, working away, with a coffee in hand.
Name: Kramp Coffee Store
Location: Awase near Okinawa Comprehensive Park
Hours: Wed – Mon 9AM – 3PM. Closed Tuesdays
Parking Suggestion: There is street parking directly in front of the store and all down that section of 20. There is a grass lot across the street as well HERE.
Bonus Info: Yen only. There is no kids menu and I do not recommend younger children as a quiet atmosphere is very respectfully requested by management.