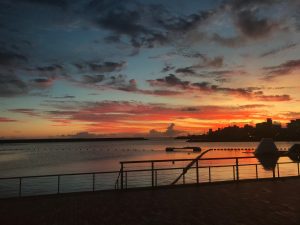 Here is my recommendation for your next date night location. While la cienega loosly translates to swamp, don't let that fool you into thinking this place is anything but beautiful. It is a smaller restaurant but they will put your name on a waiting list then you are free to walk around the building shops or on the seawall to take in the view. Once you are seated, linger and savor the experience. Quiet ambiance, picture perfect sunset view, patio seating, enticing wine list, and so many delicious sushi options you'll want to take your time deciding. Their menu has something for every diner – spicy, tempura, veggie only, bento boxes, salads, and more – and the presentations and flavors are beautiful in them all. The rolls are large but not "American sized" as I've seen in other places so do not resist the urge to order two or more to share.
Name: Sushi on La Cienega
Location: The far end of American Village past the Double Tree
Hours: Closed Wednesdays. Thurs – Tues: 12 – 2PM for Lunch & 5 – 10PM for Dinner
Parking suggestion: There is a small lot in front of the restaurant but you have a better chance of winning the lottery then parking there. I recommend HERE. You do have to pay for this lot but it is the closest.
Bonus Info: They do take credit card. They have child seats, utensils, plates, and cups aviable but no dedicated kids menu. There are appetizers such as popcorn chicken and yakitori that will suite younger, non-sushi-loving pallets.