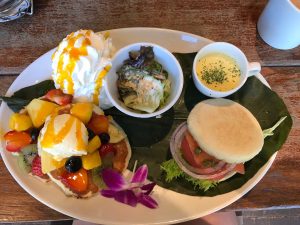 I am one of those people who starts their holiday shopping early (like in July). Part of my shopping preparations include finding where I am going to eat a celebratory lunch/dinner after I find all of the things on my list. I spent a few hours at the Rycom mall this past weekend and celebrated present-mission-accomplishment at the Lanai Café. Shout out: This place was recommended to me by a Foodie Friday follower!
The Aloha vibe greets you at the door through the music, decor, and Kona coffee aroma filling the whole space.I had worked up an appetite from walking every floor and store, or so it seemed, of the mall. It's a good thing too because the portions are huge! I took my time going over the extensive menu and decided on the Lanai set with passion fruit whipped cream and a side smoked salmon muffin sandwich. Every bite was delicious and they gave me enough whipped cream to get me through the entire pancake stack (and a second stack if I'd ordered it). Jason couldn't pass up the Loco Moco. He liked the twist of a demi-glaze sauce as opposed to a traditional gravy so much that he dared to say it was better than the original recipe (gasp, I know). The next time you tackle a long day of mall shopping, make this place your celebratory stop and you will not be disappointed!
Want to recommend a place for me to check out and feature in Foodie Friday??? Comment below with your favorite places on island or off island for travel editions!
Name: Lanai Cafe
Location: Aeon Rycom mall outdoor food court area HERE
Hours: 10:00AM – 10:00PM Everyday
Parking Suggestion: Parking Lot F is the largest, and closest, option HERE
Bonus Info: They do take credit card. High chairs are available for younger diners. They grind all of their coffee fresh to order!
[left]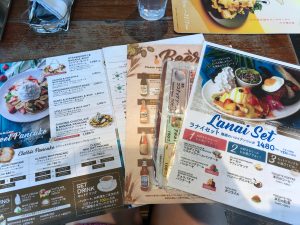 [/left]
[right]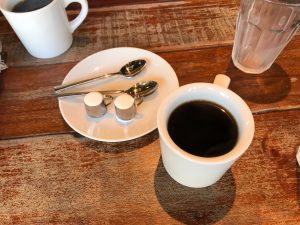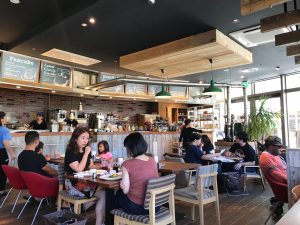 [/right]