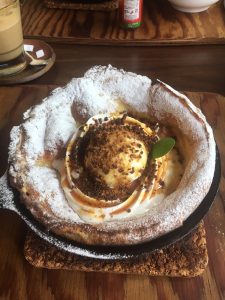 Mother Coffee is one of my go to places when I'm in the mood for great service, delicious coffee, and pancakes! Not just any pancakes though. These are Dutch Baby style skillet pancakes which means you get one, larger pancake served fresh out of the oven in a mini skillet topped with whatever delectable goodness you choose. If the scale wouldn't start to betray me, I may consider eating here way more often then I already do.
The Dutch Baby pancake menu is divided into savory or sweet options. If you're not craving pancakes like I was, they also offer a more traditional breakfast set of toast, egg, and salad. Pair your selection with one of their many coffee options. The coffees are all excellent and can be done either hot or iced. The combination of mouthwatering food, delicious coffees, and friendly wait staff will have you hooked on this place in no time!
Name: Mother Coffee
Location: Near the Aeon mall by Camp Butler Plaza Housing HERE
Hours: Friday – Wednesday 8AM – 5PM. Closed Thursdays
Parking Suggestion: Something small yet mighty! The restaurant is located on a fairly steep incline that may give smaller engines some trouble. Also, wait in your car if the lot has several cars in it until one of the team members tells you where to park since the lot is small. This minimizes the parking Tetris that has to be coordinated.
Bonus Info: They do except credit card but their machine isn't the most reliable to so come prepared with Yen. Not great for large groups because they do not have large tables so you'd be sitting at several separate, smaller tables. They do not have a dedicated kids menu but they do have high chairs available and kids flatware.