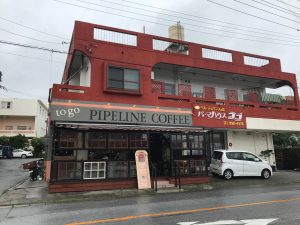 We live very close to Esparza's Tacos and Coffee so when a friend invited me to try another place doing the same mashup I wasn't sure the new place would compare. Hands down the best latte I have had since moving here! Their Organic Honey Latte had me vowing to come back and buying their whole beans before I left. I like a little coffee with my sugar so if you aren't a sweet fan you may not be as enthused as I was. The tacos also surprised me. Their homemade corn tortillas, beautiful fresh ingredients, perfectly spiced pork, and delicious soup to accompany it all made this lunch experience one I will gladly repeat…often! They have Sunday breakfast too that I'm excited to try. It was recently their one year anniversary and I am sure there will be more to come given their location and dedication to delicious food.
Name: Pipeline Coffee
Hours: Mon – Sat 11AM – 4PM; 6PM – 12AM. Sun 8AM – 6PM
Parking Suggestion: Definitely not in the Jimmy's lots, or the lot right next door with the sign in Japanese that ends in Jimmy's, because towing is enforced. They have a small lot a street over and two blocks up HERE. There is also street parking on neighboring streets.
Bonus Info: They do take credit card. They have take out! Snap a picture of the menu and call ahead with your order. There is no dedicated kids menu or highchairs available. There is covered outdoor seating as well as the main room. They sell coffee beans, cups, espresso cups, and other shop-themed items. If you use the Google maps app, ignore the turn it will suggest at the Futenma main gate. Stay on 58 heading towards Naha until it reroutes you to the street parallel to 58. The Google route was a residential adventure that my low-riding Passo did not enjoy.