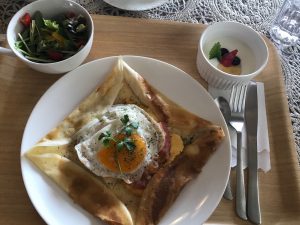 This welcoming bed and breakfast café is tucked away in Yomitan passed Torii Station. The couple who own Rachel café are originally from Hong Kong. Thanks to a backpacking trip, and a cargo ship, almost two decades ago they found themselves in love with Okinawa. So much so that they eventually decided to call it home. Their well traveled, worldly spirits lead them to opening a bed and breakfast for like minded, wonder lust filled travelers to stay and enjoy the culinary influences they gathered along the way.
All of the items on their simple menu are organic and local. Some of the ingredients are grown in their back yard garden, like the herbs and cherry tomatoes. The bread is all made in house from scratch because Sarah, the owner/waitress, believes that "all good things take time." I chose to try the crepes when I visited which came with a green salad featuring garden-grown items. While the crepe was the star of the show, the salad with its light citrus dressing was a close second. The egg topping my crepe was perfectly cooked sunny side up. The sweetness from the cheese, and crepe, complemented the savory bacon superbly. The meal was completed with berry and honey yogurt Sarah added mint to as a pleasant twist of flavor. Overall, it was a social dining experience I look forward to repeating and next time I may just bring a book to read by the cozy faux fire for a while.
Location: Yomitan near Torri Station HERE
Hours: Friday – Tuesday 7AM – 12PM. Closed Wednesday and Thursday.
Parking Suggestion: They have two dedicated spots in the garage under their balcony. There is a sign hanging over these two spots and street parking is available if those two places are taken.
Bonus Information: Yen only! Be ready to take your shoes off and don some house slippers. They offer outdoor seating on their balcony when it is nice out. There are no dedicated child sized portions on the menu but the owners love kids and are willing to accommodate where they can. There are also kids toys on the book shelf to keep the young visitors entertained.