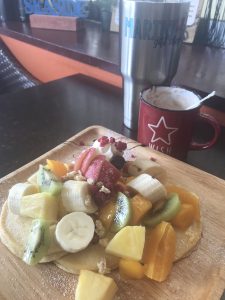 First eat-in experience in months!! Oh it felt so good to just relax in a quaint, seaside café with super friendly staff, calm music, beautiful weather, and delicious food. I was the first customer of the day. I had the whole place to myself and I was in foodie paradise. Because it was such a beautiful, tropical island day I chose the Fruit & Fruit pancakes along with a mocha banana coffee. Three light, fluffy pancakes piled high with kiwi, orange slices, pineapple, apple, banana, blueberry, mango, pomegranate seeds, and granola for crunch filled my senses. Surprisingly it wasn't over filling despite the volume of fruit. There was also a hint of pepper in the pancakes to balance out the sweetness which I really appreciated. The coffee was heavenly. Rich chocolate coffee topped with thick whipped cream and banana flavoring made me think I was drinking a chocolate banana smoothie instead of coffee. I cannot wait to get back to this little place and try something else from their vast menu.
Name: Seaside Terrace Cafe
Location: On the Sunabe seawall HERE
Hours: Tues – Fri 8AM – 5PM. Sat 8AM – 3PM. Closed Mon and Sun
Parking Suggestion: They do not have any dedicated parking spaces. There is parking along the seawall but be prepared to walk a little ways. There is also some side street parking but pay close attention to the signs because some of it is reserved for residents only.
Bonus Info: They accept yen or dollars. They do NOT accept credit cards. High chairs are available for younger diners along with a dedicated kids menu. The largest table available seats four so not a great place for groups. They will close early if they run out of too many items on the menu. They are currently doing takeout and there is a dedicated menu for that (see below).
[left]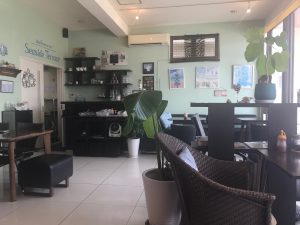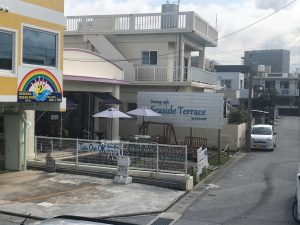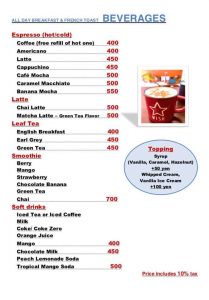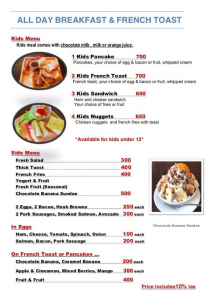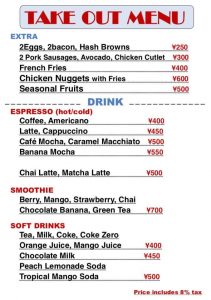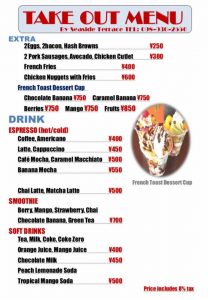 [/left]
[right]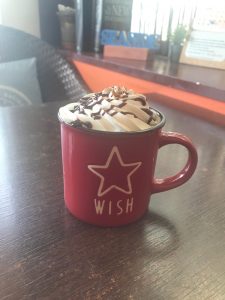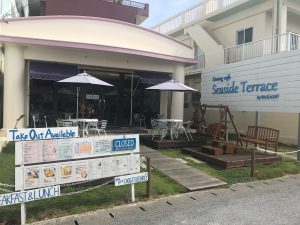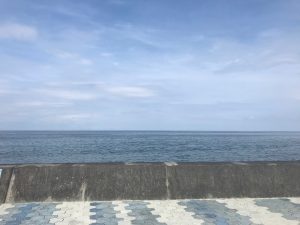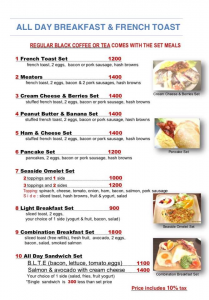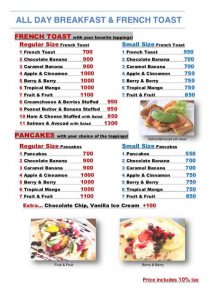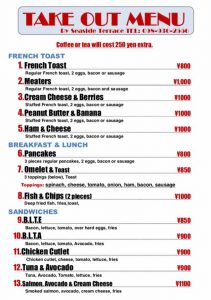 [/right]