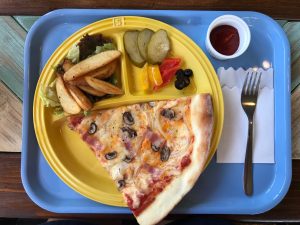 I've got a new one for you! This place has only been open for FOUR months. The owner hasn't created a website for Facebook page for it yet so it was pure pizza fate that had us drive by one day. Both my husband and I went to college in Kings Point Long Island, New York. We may not be a natives but safe to say we've eaten our fair share in New York style pizza. We were interested to see if this place's claim to be making NY style pizza would hold up so we went back this past Saturday.
It definitily lives up to the claim! The pizzas are large, which makes folding the slices a necessity, with a good crunch to the hand tossed crust. The ingredients are fresh, the cheese stretches with each bite, and there's just the right amount of sauce. Most importantly it passes the drip test! (It's a New York thing.)  We chose to order a couple of different slice sets to try as many options as we could. They were all delicious. The pickles that came with the set were a fun bonus that are pickled in house. We told the owner we'd tell all of our friends and we'd for sure be coming back to try more of his creations.
Location: Behind Camp Lester HERE
Hours: Saturday ONLY 11:00AM – 9:00PM
Parking Suggestion: There are two dedicated spots in the dirt lot adjacent to the restaurant. If those are full, street parking is your best bet but make sure you have a working parking break because the close streets are hilly.
Bonus Info: Yen only!! He sells some local made bags, wallets, and other items also. He's a big skateboard enthusiast! The floors are concrete and there a mini 1/2 ramp in the main dining area. If you like to board, this could be your new place.