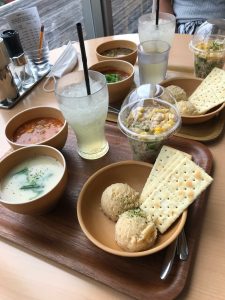 Looking for a light lunch option? Something simple but so good you know you'll be back from the moment you smell that delicious, comforting aroma? Soup Soup is your place then for sure. The friend who went with me is a regular customer here who grew up on Okinawa so she certainly knows the options out in town.
Soup Soup is tucked away on the second floor of a furniture store in Awase. If you didn't know what floor it was on, it wouldn't matter because you could follow the line of eager lunch patrons right to it no problem. This place is definitely popular with locals. There is no English version of the menu posted but that's nothing Google Translate can't help you overcome! There are eight types of soup and four types of curry to choose from. We chose to sample half the soups by each getting a Two Soup Set. My favorite was the Edamame Green Bean Cream Soup; it was so rich with crunchy, fresh veggies. Her favorite was the Chicken Gumbo for it's spicy, comfort-food flavors. The side salad was the perfect complement to the hearty soups with fresh local veggies in it and several salad dressings to choose from. I told my husband all about the experience when he got home and he's looking forward to going there this weekend for the soup…and for the furniture shopping.
Name: Soup Soup
Location: Located in Awase inside of the Living Design Square furniture store on the second floor HERE
Hours: Mon – Sun 10AM – 7PM
Parking Suggestion: This is a rare occasion when there is ample parking for a restuarnt! That's purely because it is inside of a large furniture store complex but definitely a win.
Bonus Info: They accept credit card or yet. High chairs are available for little diners and so is a kids portion of their soup set. You can buy large, party size containers of soup to go for office/entertaining events.
[left]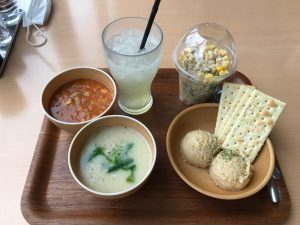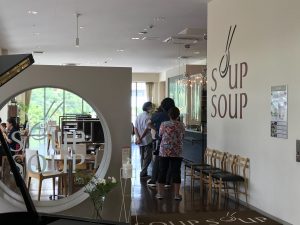 [/left]
[right]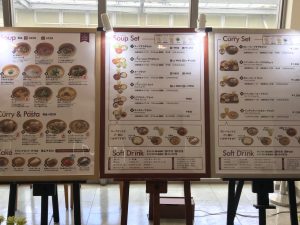 [/right]