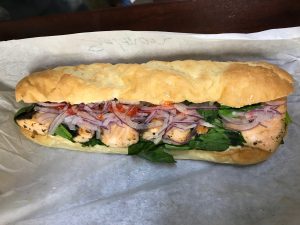 Sometimes a loaded sandwich to-go is just what the doctor ordered for a hectic day. Thank goodness for Stickywich because "oh my sandwiches!" This place serves up outstanding creations every time. Every option on their menu is overflowing with flavorful, fresh ingredients. They offer three size options, all on their homemade bread, and offer seemingly endless topping combinations with a variety of sauces to please every pallet.
The reader who recommended this gem to me is a regular customer at their counter. She says she "9 times out of 10 orders the salmon sandwich" so I got one of those and half a vegetable sandwich. Both were incredible. The avocados on the vegetable sandwich were ripe and buttery and the salmon was cooked perfectly. I did order fries as well; however, they were gone before I could take a picture of them because they were so good. I washed it all down with some of their home-squeezed berry lemonade. The lemonade menu changes seasonally so definitely incentive to make frequent trips. Next time you happen to be near Camp Foster, give this place a go and let me know what you think in the comments block!
Name: Stickywich
Location: The purple building outside of the Camp Foster hospital gate HERE
Hours: Mon – Sun 9AM – 8PM. Closed the last day of every month.
Parking Suggestion: Street parking only but there is plenty along that stretch of 81 so you should be good.
Bonus Info: They do take credit card. While there is no dedicated children's menu, the do offer 1/3 size sandwiches (about 4 in.) which should please most youngsters. The kids will definitely love the seating arrangement…beanbags on skateboard ramps! They do take out and are sure to include everything you would need even small plastic cups for easy condiment dipping (see picture below).
[left]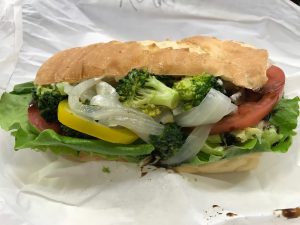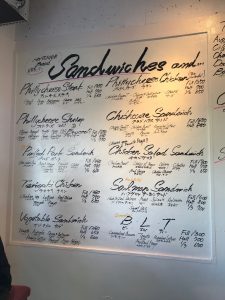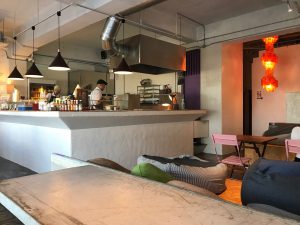 [/left]
[right]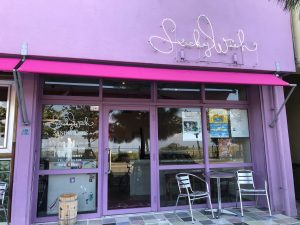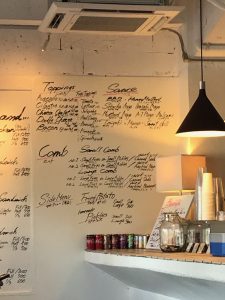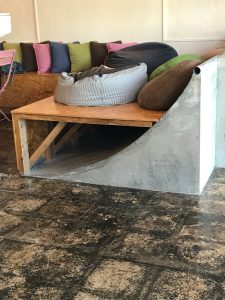 [/right]