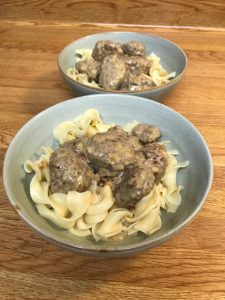 Swedish Meatballs are amongst my favorite comfort foods. The richness of the sauce, the subtle sweetness of the meat, and the airiness of the egg noodles all combine into a dish that melts any stresses or worries away. I came upon this recipe thanks to Pintrest's ability to mind read (aka the underlying algorithm that suggests things based on what you've looked at before). While we aren't on a gluten free or keto diet, I figured I could make a couple well placed substitutions where necessary.
The key to making this recipe amazing is in how you treat the sauce. Cream sauces are so easy to break (when the cream becomes grainy because the fat and oil separate). When you reach the part in step three where you transfer the meatballs to a plate after they are perfectly browned, remove the pan from the heat to cool it a little and turn your burner heat down slightly before adding the butter. Let the butter melt completely in the cooling pan then return the pan to the heat and continue with step four. This should lower the pan's heat enough to keep the sauce from breaking. It will increase your simmer time so resist the urge to amp the heat back up. You'll know your sauce is thickened well when the bubbles the simmering creates don't burst on their own (see the picture below). Happy cooking everyone!
Name: Swedish Meatballs
Location of Recipe: Gnom-Gnom food blog via Pintrest HERE
Hardware Needed: Nothing unusual for this one which makes it the perfect weekend meal! Easy to do and easy to clean up.
Recommendations: 1) Regular butter works just fine. 2) Don't have almond flour or pork rinds? No worries, panko bread crumbs work great too! 3) I used corn starch instead of arrowroot powder as my thickener. I used 2TBSP of cold water for 1TBSP of corn starch. 4) We chose to use classic egg noodles instead of the cauliflower or cranberry recommendations on the recipe but those sound yummy too so please comment on how those go!
[left]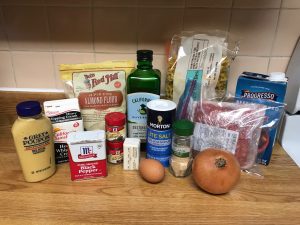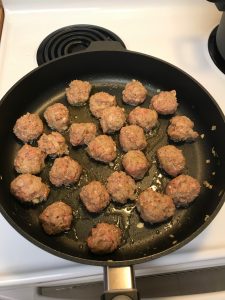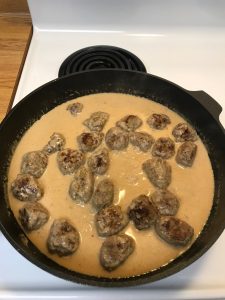 [/left]
[right]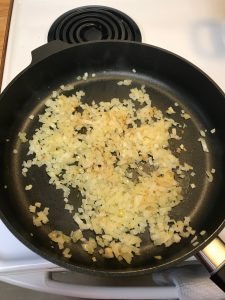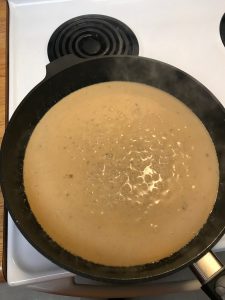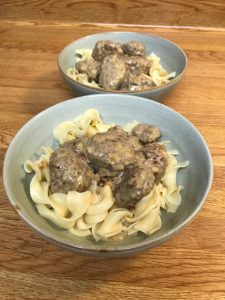 [/right]