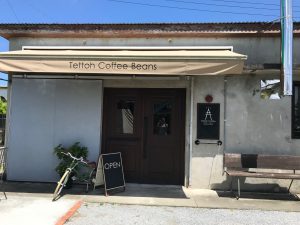 This adorable coffee shop awaits your visit tucked away on a quiet street near McT. The smell of coffee being roasted and ground will lead you through the whimsical, garden seating (complete with teepee for kids to play in) and into the cozy shop. Their menu is simple so they can make each cup and dish burst with flavor every time. I was craving sweet when I visited so I ordered the spice ginger latte with raisin butter toast. The spice ginger latte has replaced PLC's as my favorite latte! Sweet cinnamon and nutmeg are balanced perfectly with a ginger chase all wrapped up in bold coffee in this delicious creation. As simple as the toast dish appeared, it surprised in the subtle, rich flavors the raisin butter brought forward. When you decide to give this coffee oasis a try, let me know and I'll certainly join you.
Name: Tettoh Coffee
Location: Near McT and Camp Courtney HERE
Hours: Mon – Sat 8AM to 5PM. Closed Sundays
Parking Suggestion: Plenty of parking in their grass/gravel lot.
Bonus Info: Don't have time to hang out? No problem, they do take out. They do not take card so come prepared with yen. There are some kids options on the menu and they have kids seats available. They sell coffee beans!!