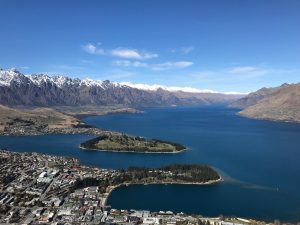 We needed a break from the Okinawa heat and Queenstown, New Zealand was just what the doctor ordered! Snowboarding, skiing, horseback riding, gravity carting, boating, and walking miles everyday in the crisp mountain air certainly worked up our appetites. We tried many tasty eateries, from crepe carts to Michelin star hideaways, but this little place stole the show. The savory smells of hearty foods flood out the door, as soon as you open it, and lead you to the deli style counter. The menu changes seasonally so that the freshest, local ingredients possible are showcased. Lamb, beef, and chicken were the proteins of the day for our visit accompanied by roasted vegetables, several rice and salad options, soups, and sauces to round out the flavors. We chose our plates, and filled them all the way to the rim, then chose seats amongst fellow snow adventurers. The seating area is set up community style so we shared, and heard, stories from the melting pot of humanity around us while we savored every forkful. The next time we visit Queenstown, this place will be one of our first stops before hitting the slopes!
Name: Big Fig
Location: Queenstown, New Zealand
Hours: 8AM – 9PM everyday
Parking: Good question! We didn't rent a car there but looks like the closest place is HERE if you can't find street parking.
Bonus Info: They do take credit card (pretty much everywhere did). They are big on minimizing their environmental impact so they give their food scraps to local pig farms, they do not use plastic straws or bags, and they have reusable takeaway flatware you can buy and they will give you a discount for using it every time.