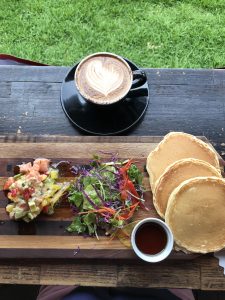 Brunch anyone?? My answer is always yes and this eclectic, seaside place delivers several delicious options. Located on the ground floor of the Distortion Seaside Building in American Village, the view and proximity to Sunset beach can't be beat. Pancakes, sandwiches, acai bowls, and waffles all make an appearance on the menu along with vegan options and kids portions of some of the most popular lunch items. The atmosphere is quiet and cozy with light music in the background and couch seating along side tables or out door counter style seating to choose from. It is family friendly with high chairs available to accommodate even the smallest diners. If you're wanting to get straight to the beach, grab a pastry (or four) to go from the many delicious bakery items and take your coffee creation with you. Come on back after soaking up some Vitamin D for a milk shake, homemade lemonade, or something from the bar. This place really does have it all!
Name: Vongo and Anchor
Location: American Village
Hours: 9AM – 10PM every day
Parking Suggestion: Underground garage in the Distortion Seaside building
Bonus: Bike racks out front. A bike rental counter (coming soon). A local artisan shop in the restaurant that sells shirts, coffee, granola, salts, pottery, and more.