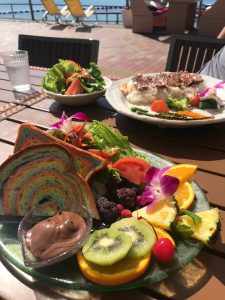 Wagyu Café is beautiful inside, outside, and on the plate! Every angle is bursting with color and whimsy. I absolutely had to try the rainbow bread brunch plate. The bread was lightly toasted with plenty of fluffy, freshness left that the sweet flavor still came through. The oranges, kiwi, and pineapple were juicy and at their peak ripeness. I was initially disappointed that the berries were frozen but it was so warm out the day we went that they ended up being my second favorite part of my brunch! They were second to the Nutella and bread combo because Nutella is just that hard to beat.
My brunch buddy enjoyed his perfectly cooked wagyu steak and rice. He said he could have used a few more vegetables but the salad made up for it. I think we both agreed that his guava smoothie was the perfect tropical paradise drink to choose on our warm brunch date. We lingered on the lounge chairs for a while after brunch people watching and enjoying some iced lattes. We are going to go back for sure to try their dinner menu and watch the sunset from the deck.
Name: WaGyu Café Kapuka
Location: Chatan near Chatan harbor HERE
Hours: Monday – Sunday 9AM – 10PM
Parking Suggestion: There is a pay to park parking lot HERE that doesn't charge if you park less than two hours.
Bonus Info: They do take credit card. The menu is highly customizable through their iPad ordering system so bring your imagination. WaGyu is kid friendly (hello rainbow bread!) but there were no high chairs that I spotted and no dedicated kids menu. The a la cart menu will be the place to order kids sized portions from.