Hi, I'm Rebecca, and I'm married to a Marine. Here in Okinawa, that means I have no furniture. Come to my house, and not only will you recognize every piece of government-issued loaner furniture, but you won't have to ask where the bathroom is, because it's in the exact same place as at your house. Or maybe it's flipped. Either way you'll feel right at home. Except, not really.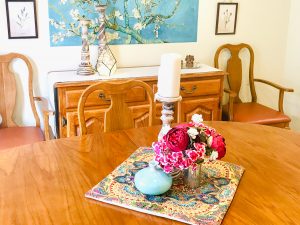 If you went to college, you probably remember the first week or two of dorm life. Concrete block walls, generic furniture, linoleum floors. Every room identical. What made it fun (for decorating geeks like me anyway) was visiting everyone on my floor and seeing how they managed to personalize that standard issue space with nothing more than the campus gift shop and their pizza money. College life, meet Oki life. Twenty years later and not much has changed.
Last week I cleared out Christmas. It's always done with a mix of disappointment and relief. I dreaded the process of making everything fit in their bins, but the thought of all that cleared off space in my little house made it worth it. Suddenly everything felt bigger and more spread out. And, well, empty.
The new year always prompts me to start fresh. I make goals, choose a word to use as inspiration, and clear out as much clutter as I can bear. This year, I wanted to to keep a little of the sparkle from my Christmas decor. It's hard to make these cookie cutter houses feel like home (especially when our beloved possessions are stuck in a storage unit), but I believe in the power of small things, so I headed straight for The Marine Gift Shop.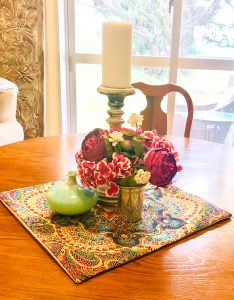 Scattered throughout the shop are baskets and vases of the most beautiful artificial flowers of all types and colors. The perfect accent to a cleared off table or buffet, they are simple but so versatile. Right now I have them in a simple silver julep cup, but when I get tired of that, I can add another color and fill a big bowl. A few of these stems would make a beautiful statement tucked into a wreath or leaning out of a basket. At just a few dollars a piece, you really can't go wrong.
Another item that caught my eye is this glass terrarium. Perfect for replacing the mini Christmas tree that was on my buffet, this beauty is another versatile decoration. It's the perfect place to display our growing sea glass collection, but it would look amazing with star sand or pinecones, too.
These are items that don't just make my base house look better, they'll be a welcome addition to my "real" home once we get back to the states, too. After nine homes in fifteen years, I don't have space or patience for collecting random decor pieces. Everything has to have some meaning, a deeper connection to our experiences as a family. I want to look around my home and feel closer, not farther away.
Small purchase, huge impact of my room and sense of home.