Oh Vietnam, how you have captured my heart.  Nothing in this world is definite, but to say that I will be making every last attempt to go back to Vietnam for leisure is as close to a definitive statement as one can get.  The crowded streets, the food, artists, friendly faces, it is all pulling me back as fast as I can fly.
We love shopping Vietnam for the pottery, textiles, and baskets that the country is famous for.  There is an appreciation to be had over the craftsmanship of the hand-made goods we can bring back to feature at the Marine Gift Shop.  At some point during our trip, all the goods and wares we were shopping forstarted to look the same.  It could easily have been exhaustion setting in, but I started to pay less attention to the surface of the goods and more to the artists themselves.  I fondly noticed that many of them work together in the true sense of how a community should.  In an unlit shop without a door, I noticed an artist carefully selecting paintbrushes from home made shelves holding hundreds of tools.  This was not a store, there was no shopkeep, and I could tell the tools were very used but well taken care of.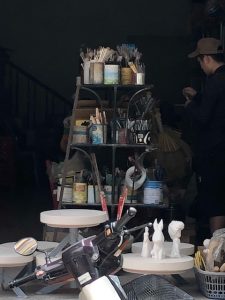 Just another block away there was an opening between a couple of stores that I couldn't resist peeking into.  There I found a large space full of "dirt" for lack of a better term, along with some older industrial looking equipment.  Our guide explained to me that that was where the village got their clay.  Village… I could get the sense that that's truly what I was looking at.  These few blocks lined with stores of ceramic wares is truly a village where artists share tools and use the same clay to make each piece their own, unencumbered by segregation of assets. It was a warm feeling to observe a village at work.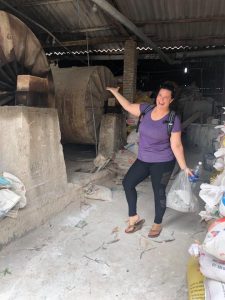 We are excited to bring these works of art to the Marine Gift Shop.  Not only does shopping these hand-crafted wares support a village back in Vietnam, but they also support our very own village here.  The proceeds go directly to local military scholarship applicants as well as to AWWA to help fund larger projects that no one store on island could do alone.  We are thrilled to be part of something that makes a larger scale impact in our local community.  Who knew shopping could change the world?
Be sure to come to the Marine Gift Shop on Thursday September 12th to shop all the beautiful items from Vietnam!!
The Marine Gift Shop hours: Thursday 10-5, Friday & Saturday 10-3
~Natasha Harth
Director of Operations