The Marine Gift Shop is run primarily by volunteers, but we do have four paid staff members overseen by our volunteer Board of Supervisors.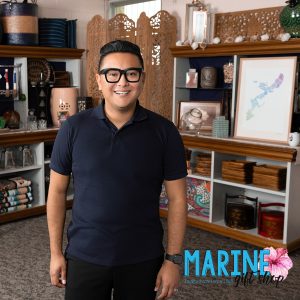 Vincent Toth – Director of Operations
Vinny started to volunteer at the Marine Gift Shop in January and shortly after became the Merchandise and Inventory manager.  He comes to us as a former Nordstrom manager and has always helped the local communities he has lived in with volunteering for organizations.  Since taking on the merchandise and inventory manager role, he has helped spearhead the new point of sales system and integrate the traditions of the Marine Gift Shop with modern technology.  One of Vinny's favorite shipments is Thailand, because he loves all the intricate carvings and wood working.  Vinny has been a military spouse for six years and is throughly enjoying Okinawa with all the delicious food it has to offer.  Come see him and say hello any time.
Courtney Valora – Assistant Manager
Courtney joined the Marine Gift Shop team in October 2019. Courtney and her family arrived on island in October 2017 and had their first child a couple months later. After her daughter began school, she was excited to join the team as a volunteer when the position came open. Courtney graduated with a B.S. in Supply Chain Management (SCM) from Arizona State University. She has 10 years corporate experience in various facets within the SCM arena. Six of which were in indirect procurement for AMC Theatres out of Kansas City. Courtney always enjoys volunteering with local organizations including, Habitat for Humanity, Big Brothers Big Sisters, and Variety Children's Charity of Greater Kansas City. She is excited to bring her background to the Marine Gift Shop as well as continue the great traditions of the shop's service to Okinawan and American Communities on the island. When it comes to MGS merchandise, Courtney's favorite shipment is Thailand. She appreciates the craftmanship of the screens, the variety of their pieces and beautiful floral décor. Courtney loves the history, culture and landscape of Okinawa. She is known amongst her friends as the walking google map of the island. But her favorite thing and where she can always be found, is enjoying the most hidden of cafes.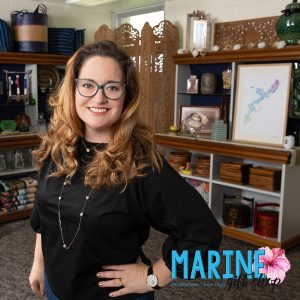 Brandy Sharpe – Marketing Manager
Brandy Sharpe has been a part of the Marine Gift Shop family since November of 2018. She began volunteering as a means to meet others here on island, and she's proud of the amazing relationships forged with so many. Brandy's dedication to the Marine Gift Shop resulted in accepting the position of Marketing Manager. Brandy received her BA in History with a minor in English from Arizona State University.  Prior to arriving on Okinawa, Brandy was the Public Affairs Specialist at the National Museum of the Marine Corps.  It was in that position that Brandy found her love with public relations, and the importance and value of volunteers in the workplace. When it comes to the MGS merchandise, Brandy has a love affair with all vintage ginger jars from Hong Kong, but secretly adores most everything from Thailand. When you don't see Brandy in the shop- you might catch her in a number of yoga classes here on island, or laughing as she attempts to master this stand-up paddle board life.
Stacey Stiefel – Accounting Manager
Stacey and her family arrived on island in October 2018. This is her second time in Okinawa. The first time she was here, her husband was Active Duty Air Force, but this time they are back as DoD Civilians. Stacey is a mother to seven wonderful children, three of whom are already grown, and the remaining four are here on Okinawa.  Stacey first came to the Marine Gift Shop in December to inquire about volunteering. It has been her "go to" place ever since, and sort of like a second home. She enjoys talking to the customers, and she loves seeing all the new items the Marine Gift Shop gets into the store. Stacey's favorite shipments are from Hong Kong, and while she does not love the unpacking part of it, she really loves all the ginger jars!  When Stacey is not at the Marine Gift Shop, you will find her and her family discovering hidden beaches, looking for treasures. They spend their weekends looking for large seashells, that rare piece of sea glass, or that beautiful piece of pottery that has washed up on shore.  In a round about way, Stacey and her family are cleaning the beaches as they go, making Okinawa a better place for all.