The Marine Gift Shop is run primarily by volunteers, but we do have five paid staff members overseen by our volunteer Board of Supervisors.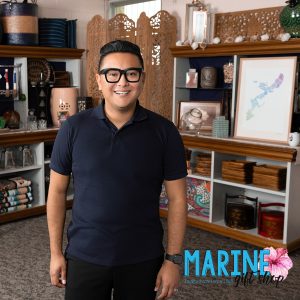 Vincent Toth – Director of Operations
Vinny started to volunteer at the Marine Gift Shop in January and shortly after became the Merchandise and Inventory manager.  He comes to us as a former Nordstrom manager and has always helped the local communities he has lived in with volunteering for organizations.  Since taking on the merchandise and inventory manager role, he has helped spearhead the new point of sales system and integrate the traditions of the Marine Gift Shop with modern technology.  One of Vinny's favorite shipments is Thailand, because he loves all the intricate carvings and wood working.  Vinny has been a military spouse for six years and is throughly enjoying Okinawa with all the delicious food it has to offer.  Come see him and say hello any time.

Jordan Lambay – Inventory/ Personnel Manager
Jordan joined the Marine Gift Shop team in May 2021. He is a dedicated volunteer in the community and continues to support those around him. Before working as the inventory/personnel manager, Jordan volunteered as a grant writer for the United Nations, specifically for women empowerment in Afghanistan. He will be graduating soon with a degree in political science and brings fresh, innovative ideas to the gift shop. When it comes to MGS merchandise, Jordan's favorite shipment is Hong Kong. He delves into every piece's history and especially appreciates the finer detail found on the Hong Kong glassware. Jordan has a deep desire to help those around him, which perfectly fits MGS's goal of giving to the local community.  
PHOTO UPLOADING
Michelle L. Alvarez – Marketing Manager
Michelle joined the Marine Gift Shop team in January 2022.  She has been volunteering with various organizations since 2009.  She loves being able to give back to the community.  Michelle and her family moved to Okinawa, Japan in 2019 from Camp Lejeune, NC. She loves the beach and couldn't ask for a better place to live than this beautiful Island.  Michelle studied Business Marketing at Hawaii Pacific University.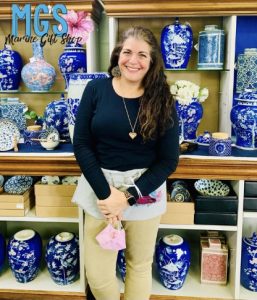 Kimberly Hicks- Sales Floor Manager
This is Kim's third time being stationed in Okinawa!  She loves everything about the ocean; especially scuba diving and collecting blue and white sea pottery.  Kim has four children, two granddaughters and has been a USMC Spouse for 26 years.  She loves volunteering and making people feel welcome at. the MGS.  Come down and welcome her to the family!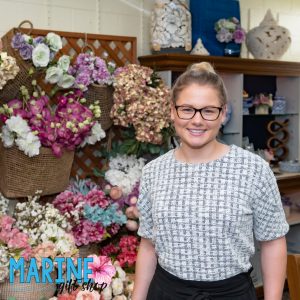 Becky Calderon – Accounting Manager
Becky joined the Marine Gift Shop team in February 2020. Becky and her husband arrived on island in December 2019 and adopted a fluffy fur baby 1 week later. After getting the family situated on island, Becky was thrilled to take on the opening as Accounting Manager. Becky graduated with a B.S. in Business Administration with a specialization in Accounting from American University and went on to get her M.S. in Accounting and Business Advisory Services from Towson University. She worked at a Big Four accounting firm for two years in Washington, D.C. before moving to Okinawa. She is excited to help volunteer at the Marine Gift Shop as well as buy all the great items the shop has to offer in her spare time. You can catch Becky at the dog park or gym in her off-time, as she is trying to work off all the Oki bubble tea and ramen she consumes.